PACKAGE ONE: The Safari Blue Trip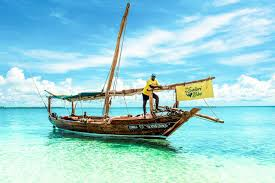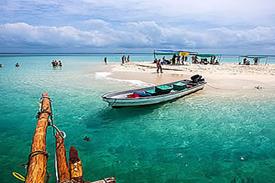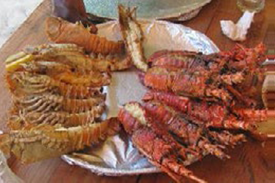 The original and the best, 'Safari Blue' is a full-day excursion using locally made traditional sailing dhows of between 8 to 10 metres in length, carrying up to 22 passengers plus crew.
These passenger-carrying dhows are fitted with outboard engines, marine VHF radios, gas inflatable life jackets, sunshade, boarding ladder, waterproof bags and first aid kit with DAN oxygen unit.
You will be picked up at Zanzibar International Airport. The excursion starts at the fishing village of Fumba, 30 minutes drive from Stone Town. Fumba is situated in the southwest corner of the island and is an ideal starting point to explore Menai Bay, designated Conservation Area. The bay has a number of beautiful, uninhabited islands and sandbanks and is often frequented by humpback and bottlenose dolphins.
On arrival at Fumba you are given a briefing and a life jacket demo. You then board the dhows and set off to explore the bay and search for the dolphins. Dolphins have been spotted on at least 85% of these trips. Later in the morning stop on a sandbank. Guides, who can safely lead the snorkelling session and show points of interest, accompany you. For beginners or those who are not confident swimmers, there are inflatable snorkelling vests and the guides can give tuition.
After snorkelling sample a fresh green coconut before sailing to another sandbank for lunch. During the morning a catering boat has gone on ahead to prepare lunch which is served on teak picnic tables set up beneath smart canvas sunshades. Lunch is a traditional Zanzibari meal followed by fruit tasting, with a selection of different tropical fruit. Coffee and Amarula liqueur are served after lunch. Cold drinks are available throughout the day.When the tide allows, visit a beautiful mangrove lagoon where it is possible to swim through the mangrove forest. Return to Fumba by sail boat and arrive back at 6 pm, in time to see the colourful African sunset.
There are no formal changing facilities at Fumba so please wear your swimming things under your clothes. Bring waterproof shoes for boarding the dhows and bring towels, sunscreen and a spare T-shirt for snorkelling.
1700hrs – End of the tour and transfer back to the airport.
Excursions rates per person in US Dollars and do not include transfers to/from hotels in Dar es Salaam and flights. Airfares from Dar es Salaam, start from USD166 per person (return) and can be booked alongisde the tour.
| | | | | | | |
| --- | --- | --- | --- | --- | --- | --- |
| TOUR/EXCURSIONS | DURATION | 1 PAX | 2PAX | 3PAX | 4-20pax | Above 20 |
| SAFARI BLUE | FULL DAY | 150 |          90 | 80 | 70 | 60 |
The price Includes:
Return Transfers
A buffet seafood lunch comprising (subject to availability):
Slipper lobster
Two types of grilled fish
Chicken
Grilled calamari
Vegetarian/non-fish dishes by prior request
Rice
Two sauces – tomato with tamarind and coconut with coriander
Large selection of tropical fruit (10-15 types)
Beverages: soft drinks, mineral water and beer
Coffee and Amarula liqueur
PACKAGE TWO: Splendours of Zanzibar
Depart from Dar Es Salaam at 08h45 with Zanair and arrive at Zanzibar Airport at 09h15, meet and greet by our drive and proceed for a half day city Tour of Stone Town. Begin with a visit to Zanzibar's colourful market, alive with the buzz of locals bartering fresh vegetables and baskets of tropical fruit, amongst the heady smell of exotic fruit.
Continue to the site of a cathedral built in 1874. The cathedral signifies a potent time in Zanzibar's history and stands on the sight of a past slave market with the high altar standing on the exact site of the whipping post. Slavery was abolished in 1873 by decree of the Sultan of Zanzibar.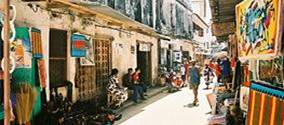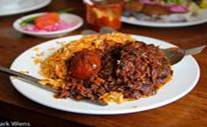 From here visit the residence of the late Sultan of Zanzibar, 'Tip Tip House', the Old Fort, 'Peoples Palace' and the House of Wonders', Forodhani garden full of intrigue from days of long ago. The tour ends with a stroll down the narrow streets of the old Stone Town, the heart of Zanzibar's chequered and varied history. After lunch (which is not provided), the afternoon holds a half day Spice tour which is guaranteed to waken your senses!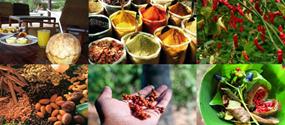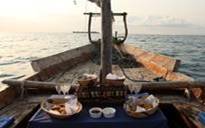 Visit spice plantations where you will have the opportunity to pick, smell & savour fruit & spices that you have probably never seen on the supermarket shelf. Commencing at the ruins of the Maruhubi Palace, via the site of David Livingston's house (one of Africa's greatest explorers) the journey continues north towards the Kidichi Persian Baths. From here we continue to the rural areas where local farmers live & produce some of the world's most exotic fruit and spices. Cloves, star fruit, 'bulls heart', tangerine trees, lemon grass, mangosteen and lip-stick trees, to name but a few, are what you can expect to see according to the seasons. Perhaps you will fancy buying a basket of freshly picked spices to take home with you!
At approximately 1700hrs – proceed to the sea port for a sunset Dhow Cruise.
This cruise will excite you as you'll get a good glimpse of wonderful scenes of the Indian Ocean, along the Stone Town shoreline. We will make your evening memorable, soothing you with light sea breeze while our good staff will spoil you with varieties of aperitifs, experienced Swahili singers will entertain you with their traditional live music. Sparkling wine, cold local beer, fresh juices and cocktails will be served, to cheer your delicate palate you'll enjoy a tasting of Italian cheese with homemade jam, prawns, fried calamari, crispy cassava and other delicacies of Swahili cuisine.
Later in the Evening transfer to the airport for your flight departing at 19h00.
END OF TRIP
| | | | | | | | |
| --- | --- | --- | --- | --- | --- | --- | --- |
|   | Return Flight | Lunch | Spice Tour | City Tour | Sunset Cruise | Transfer to the airport | Total  per person rate |
| (1 pax) | 166 | 25 | 50 | 50 | 35 | 25 | USD 351 |
| (2pax) | 166 | 25 | 40 | 40 | 35 | 12.50 | USD 318.50 |
| (3 pax) | 166 | 25 | 35 | 35 | 35 | 8 | USD 305 |
| (4pax) | 166 | 25 | 30 | 30 | 35 | 6 | USD 295 |
For further information on these packages and for booking, please contact Rickshaw Travel Group, tours3@rickshawtz.com or call +255 685082507. www.rickshawtravels.com